The quest to achieve a world where women and girls are at the center of global development and input meaningfully into the socio economic development and growth of their societies is one which requires regular interface with like minds and similar goals hence the need for a forum where individuals and corporate organizations working towards these goals can convene, discuss, network,  interchange ideas and possibly forge alliances to ultimately improve impact on the society at large. The 2016 Women Deliver Conference was one such forum and we are proud to have been a part of it.
The annual conference which arguably boasts the largest gathering of Individuals, Non-Governmental Organizations, Non-Profit Organizations, Charities and Corporate Organizations with interests bordering on Women and Girl Child related themes such as sustainable economic empowerment, social development, rights advocacy, youth development, poverty alleviation and eradication, healthcare and research among others held from 16th to 19th of May 2016 at Copenhagen, Denmark.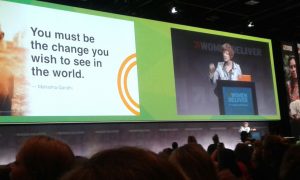 The conference activity schedule contained with loads of inspirational, expository and motivational speeches including debate and discusses through which delegates from all over the world listened to and learned from each other.
Speaking on the benefits of her participation, Founder of E2E Initiative, Joy Anih said she was elated from the experience and the much she was privileged to learn first-hand as well as the networking opportunity the conference presented. She further added that she is ecstatic about what the nearest future holds for women and girls in Nigeria.
Some other prominent participants from Nigeria included Dr. Okonjo Iweala, Mrs. Toyin Saraki, Dr. Amina Aminu Dorayi and Mrs. Moju Makanjuola.
More photos below.