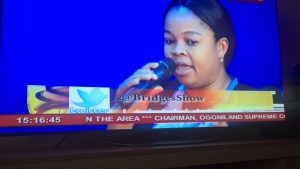 The founder/president Empowered To Empower the less privilege women Initiative Mrs Joy Anih was featured on the Nigerian Television Authority, NTA discussion program BRIDGES anchored by Mrs Moji Makanjuola (MFR) on the review of the 1st  Year of President Muhammadu Buhari in office as the President of the Federal Republic of Nigeria.
Joy Anih stated the fact that it was obvious that things have not been easy nor smooth since the new administration took over as rightly agreed by the President and the ruling party hence the need to bridge the gap especially for the youths by looking towards entrepreneurship to identify their inherent skills and begin to develop them as this would reduce the over dependence on the Government for virtually everything.
She urged the Government to encourage the entrepreneurial spirit in those who try as it would only result in a win-win situation for all.
More pictures after the cut.