Empowered To Empower the less privilege women Initiative (E2E Initiative) in line with its goal to Enrich, Inspire and Empower the lives of women in all ramifications, flagged off the pilot edition of our campaign for the younger generations of women tagged #GirlsForTheFuture. 
The event which held at Abuja International Academy in the Nyanya rural suburb of Abuja, FCT saw in attendance 126 female students of the school ranging from junior to senior secondary classes.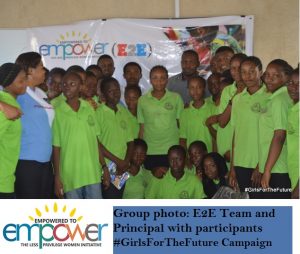 The event witnessed a lot of motivational talks and mentorship lectures from various members of the E2E Team, interactive sessions with the participants and a prerecorded drama titled THE JOURNEY, developed by the E2E Team and bordering on the challenges of girls in relation to peer influence, choices and effects, need for focus and reward of good decision making was projected for the participants to watch and learn from.
Speaking on the reason behind #GirlsForTheFuture, Founder of E2E Initiative, Joy Anih stated that "Girls who are the dependents of today will become the determinants of tomorrow through motherhood, family and career to mention but a few. These buttresses the need that they be groomed, sensitized and equipped with all necessary skills and have a reoriented mentality so as to make positive, qualitative and well guided decision that would affect the course of their future".
As regards the objectives of the campaign she stated that "the short and long term goals of this campaign are for the participants to receive psychological empowerment, mental reorientation and earn the commitment of our team to provide counseling support as well as advocate for the protection of their rights whenever they need it"
The Principal of the school, Sunday Aikhomu thanked the Initiative for choosing the school as he believes without doubt that the students have immensely benefited positively from the team. He pointed out that the E2E Initiative has made a very timely intervention in the lives of the girls given the increasing rate of moral decadence and juvenile delinquencies among teenage and adolescent girls. He concluded by extending open doors to the Initiative to return and do more for the girls.
More pictures from the event below