Mrs. Joy Anih Founder Empowered to Empower Initiative (E2E) spoke at the Flag-off event of the Project: "The Adult Literacy program (ALIP)" an Initiative of The Ambassador's Foundation for Empowerment and Development (AMBFED) aimed at empowering young and middle aged-women with literacy (reading, writing, communication, etc.), and economic (Trade, craft, finance, etc.) skills to enable them become socially and economically active in the community, powered and fully supported by E2E Initiative, on CHANGING THE NARRATIVE ON WOMEN AND GIRLS EDUCATION, she re-emphasizes the need and the importance of women Literacy.
While speaking on the topic; adult literacy in the context of our today community;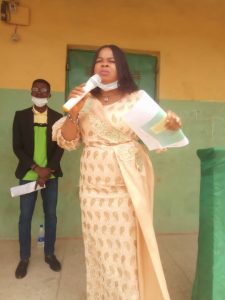 It is the ability of Women and Girls to be able to
read, write, and speak English,
which is our lingua-franca with short simple
statement on everyday life.
"I know that all the men will attest to the fact that events in this present time have necessitated the importance and the need for women and girls to be educated", while women contribute a larger part in the development of a nation their role as the first teacher and mentor to a child Is pivotal to a man success while not neglecting the fact that all successful Men/ Women have attributed their perseverance, doggedness, smartness, tenacity etc. to a woman i.e Mother.
Reasons and Importance of Women Literacy to reduce Gender Disparities;
Empowers Women
Self-Reliant
Confidence Building
Enhances Their Decision making
Ensures Better Command over their own lives
Improved Health Practices
Community Action
Bring new Hope
More actively engaged in the country's social, political and cultural life.
Able to keep up with current events and issues that are shaping our world
Literate women are more likely to send their children to school than the illiterate one's
Literate women tend to be more informed about nutrition
More likely to participate in the formal labour market and earn good incomes.
In line with the mission of the SDGs which is "A blueprint to achieve a better and more sustainable future for all by 2030", and also building on the principle of "leaving no one behind", this project highlights on a holistic approach to encourage gender inclusiveness and development for all.
[smartslider3 slider="5″]