E2E Initiative In collaboration with Its partners and well-meaning philanthropists,
We have trained and empowered fifty (50) more rural women with the sum of fifty thousand Naira each
to set up small and medium-sized enterprises, being the second batch of the two hundred (200) women planned within two (2) months.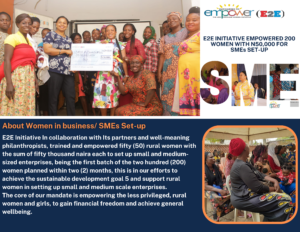 This is in our efforts to achieve the sustainable development goal 5 UN SDGs Action Campaign
The core of our mandate is to empower and educate the less privileged, rural women and girls, to gain financial freedom and achieve general well being.
As we continue to do our bit in ensuring gender and equal opportunities for women,
we hope to get more support and partnership from you in rolling out the next batch of beneficiaries.
Batch Three (3) is coming soon!!
Thanks to every member of the E2E initiative team.
Long live E2E Initiative
Thanks to our Partners
Long live Nigerian women
#Empowerment #entrepreneurship #nigerianwomen
#abuja #womeninbusiness #sdg5genderequality
#womensupportingwomen #E2E #SheTrades @un_nigeria